5 Families slot is a July 2020 release from Red Tiger which focuses on 1950's looking Mafia with a hint of Goodfellas and a bit of he Sopranos mixed in. It's a pretty basic game but looks pleasing to the eye. However, does it manage to keep players attention and offer something new and exciting, or is it more Anthony Soprano than Tony Soprano. Lets find out as in our full review of the 5 Families slot.
Bonuses

Gameplay

Sound

Graphics

Value
Summary
5 Families slot looks superb and the designers have produced excellent looking symbols which are brilliantly drawn. The music to accompany it may be a bit too elevator like and could potentially see you slipping into a coma when you combine the total absence of base game modifiers. OK, so maybe it's not that bad, and the bonus round is a good addition, with the 5 resetting free spins. However, it feels like the gameplay has been neglected and the only reel effort put in has gone towards the visuals. I would certainly play 5 Families slot but it's highly unlikely to be put on my list of go to games.
Pros
Excellent Graphics

Interesting VIP Room Free Spins Bonus With Resetting Free Spins
Cons
Low Max Win

Lack of Bonus Features
How it Pays and Plays
The reels structure is pretty basic in its setup, with 5 reels and 3 rows, which have 10 paylines.
The RTP is a bit towards the lower end of the scale and won't be getting anyone excited at a meagre 95.69%.
5 Families is a medium volatility slot and it has a max win of just 1,000x. We would have liked this to have been a bit higher and such a low max win is more suited to a low volatility slot perhaps.
Staking ranges from 0.1 coins up to 100 coins of the currency you choose to play with. So, it is an option for low stakes players and high rollers, but due to that 1000x max win it will likely see high rolling slots players giving it a wide beth.
Symbols and Graphics
Nobody would argue that the symbols aren't really well drawn and that 5 Families slot looks the part of a 1st class mafia themed slot game. The character symbols are works of art in themselves and really add to the overall atmosphere of the gameplay.
Lower paying symbols include a few bits and pieces that you would associate with the mafia or any mob based movie. These include a suitcase full of cash, a roll of cash and some casino chips, a glass of whiskey with a couple of bullets next to it and finally a copy of the New York Times with a gun placed on it. These symbols are worth 1x to 2.5x for 5 of a kind.
Premium symbols include 5 characters, presumably one from each of the 5 major crime families that used to run the New York Italian-American Mafia, which were made up of the Colombo, Bonanno, Gambino, Lucchese and Genovese families. The top symbol is a cigar smoking mafioso boss dressed in white with a white hat who is worth 20x for 5 of a kind. Then you go through a range of the other family bosses dressed in various mafia type attire, one holding a casino chip, another holding a gun, then a glass of whiskey and the final and lowest valued boss holding a knife.
Bonus Features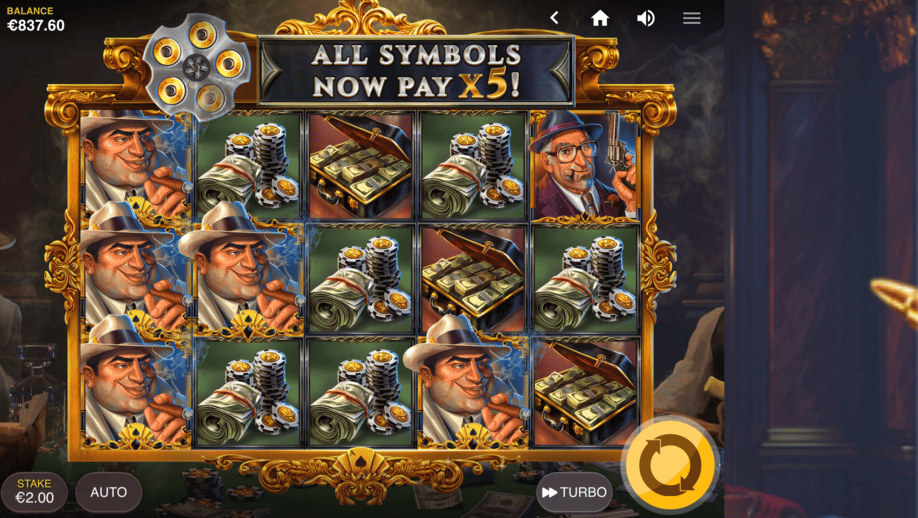 This is where 5 Families slot falls down. It lacks base game modifiers so the general play can become a bit boring. The main aim of the game is to get 5 consecutive wins in a row. Each win you get will add a bullet to the 5 round chamber of the revolver in the top left corner. Get the final bullet and you'll see a little animation of it flying into the chamber.
After this you will be taken to the VIP Room. Here all wins are multiplied 5x and you get 5 free spins, one for each round in the chamber. However, if you land a new win the 5 rounds will all be replaced, this gives you 5 chances at getting a new winning combo each time, helping to keep the wins going for a while longer.
Duncan enjoys travelling and has written for various online gambling sites, covering news, reviews and everything in between. He can be reached by sending an email to duncan@casinochronicle.net.