There are lots of games like Monopoly Live:
Dream Catcher
The Money Drop Live
Adventures Beyond Wonderland
Below you will find an insight into how they have all been designed and structured.
Adventures Beyond Wonderland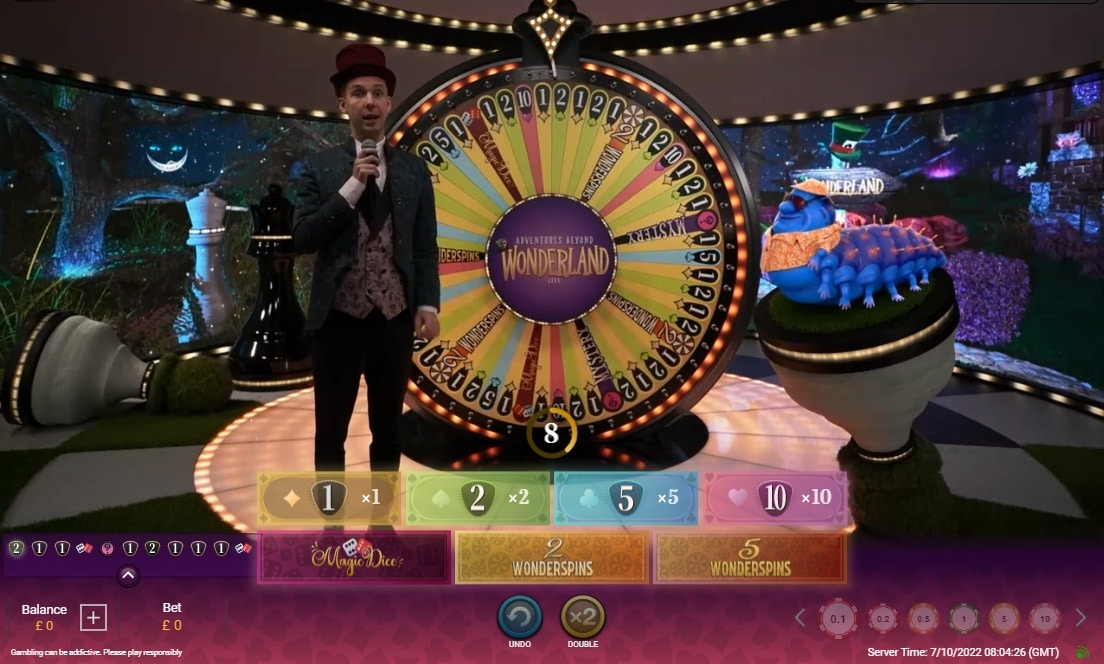 When you set about playing the Adventures Beyond Wonderland live casino game which is a game like Monopoly Live, that has been designed and launched by Playtech you have seven individual betting opportunities, and you can place a bet on as many of them or as few of them as you like.
Four of those betting positions award a simple multiplier value, and as such if you bet on any of them and it is the segment of the wheel that is spun in you are paid out according to the stake you placed on that betting position.
There are however three bonus betting boxes, and it is those when spun in and you have placed a bet on the ones that does land opposite the win pointer that you get to play off the respective bonus game.
Magic Dice – A very unique Cash Ladder type of bonus game is triggered when the Magic Dice feature is awarded to you, you can achieve some huge base stake multipliers as you rise up the cash ladders, the ultimate value of which is determined by several rolls of the dice.
2 Wonder Spins – When this bonus game is awarded to you a separate bonus wheel comes into place on which you get two individual spins, during that bonus game some potentially huge multiplier values can be awarded to players.
5 Wonder Spins – You will be awarded with a total of five separate spins on the Wonder Spins bonus when if this segment of the wheel is spun in and you have placed a bet on it.
The Money Drop Live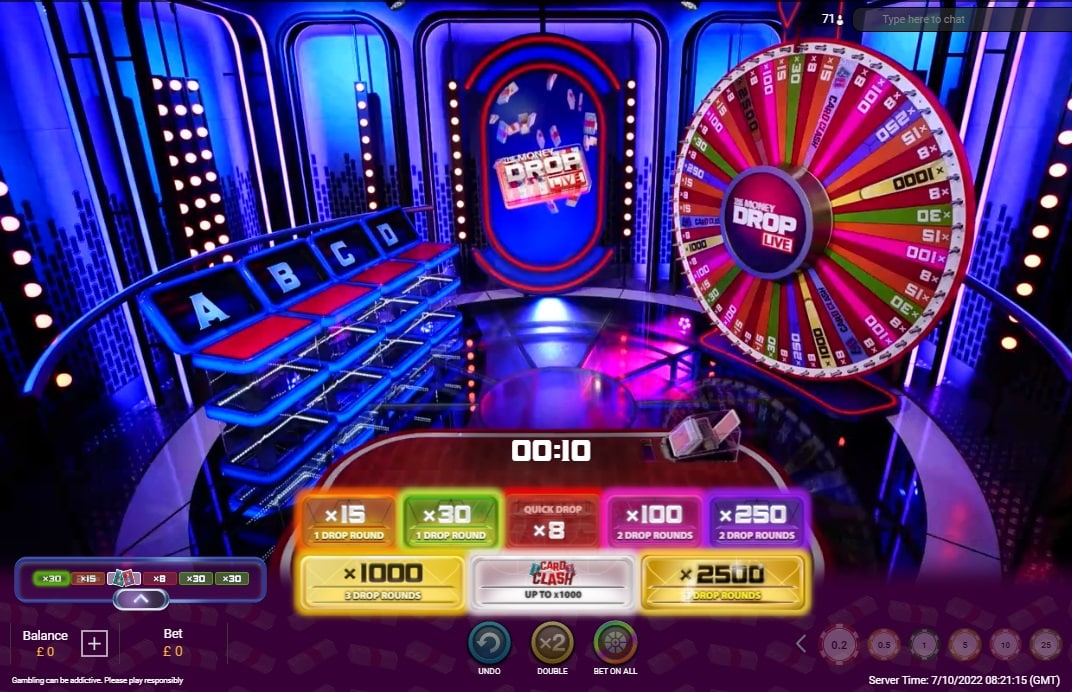 One game that is like Monopoly Live that has certainly caught the imagination of players is the Playtech designed the Money Drop Live Game.
The payouts on this game can be huge, however before you will find out whether you have actually won or lost you first has to see the segment of the wheel you have placed a bet on spin in, and then successfully achieve playing off the bonus game.
There are in fact two bonus games that can be awarded to you, the first is the Money Drop round which will triggered when the x8, x15, x30, x100, x250, x 1000 or x2500 segments of the wheel have been spun in and you placed a bet on the one that did spin in.
The second bonus game is triggered when you place a bet and the Card Clash betting position and that segment of the wheel spins in opposite the win pointer.
Before the wheel stops spinning one or possibly more of the segments of the wheel receives a special bonus multiplier, so keep your eyes peeled for the game host announcing which one it is.
The bonus games are listed below along with how they play off, be aware that the winning positions will require you to successfully complete two or three Drop Rounds.
Drop Rounds Bonus – When the Drops Rounds bonus feature plays off, you are required to select one to four of the cases displayed on the screen to put your so far amassed winnings on, once you have done so if your box doesn't drop off the screen your winnings for that round are safe.
Card Clash Bonus – The Card Clash bonus round is a simple playing card based game in which two cards are dealt out as two hands and a multiplier will be awarded based on your selection and what the value of the playing cards are.
Dream Catcher
When playing the Dream Catcher game which is an ever popular and similar game to Monopoly Live, players are required to pick one or more of the six betting positions to bet on, which for reference are: 1, 2, 5, 10, 20 or 40.
If the segment of the wheel you placed a bet on spins in then you win the corresponding payout.
However there are two special multiplier segments of the wheel that can be spun in, those being a x2 and the other being a x7, if one of them spins in then the next segment of the wheel that spins in has its payouts boosted by the value of that multiplier.
Should the multiplier spin in on two or more consecutive spins, then the multiplier valuers are all multiplied together boosting the payout of one of the standard payouts that finally spins in.
David is a keen slots player and has spent countless hours playing both online and in land based casinos. He enjoys sharing his knowledge of the gambling industry and keeps a keen eye out for the latest online slot games. Contact him by sending an email to david@casinochronicle.net.