The American online gambling market is somewhat fragmented, with every state enforcing different laws. However, that shouldn't impact your enjoyment of playing slots and table games online from the comfort of your own home. To find out everything you need to know about playing at online casinos for US players, read our in-depth guide.
Regulated Vs Unregulated Markets
The first thing that you should know about online casinos in America is the difference between regulated and unregulated markets. You'll hear these terms thrown around often, and they are an important indication of the online gambling laws in your state.
Firstly, a regulated market is one which the local gaming commission licenses and oversees all online gambling commission. In order for US online casino operator to offer its services to local players, they must first obtain a license from the state government and they have to adhere to strict rules set out by that authority.
In an unregulated market, the local government does not license online casinos. This is usually because state lawmakers have yet to pass laws regulating the activity. If you're living in an unregulated market, then you'll have to play at offshore online casinos, which are licensed by international gaming commissions and owned by private companies.
History of Online Casino Laws in the USA
The United States has had quite an interesting past with regards to online casino laws – dating back over 20 years. So, if you haven't been staying up to date with every new development, it's understandable that you'd be a little bit lost. Here's an overview in case you missed anything.
The first real money USA online casinos and poker sites were launched in 1998. Sites like Ultimate Bet, Party Poker and Poker Stars opened up their American sites and started offering their services to players across the country. Since there were no laws governing online gaming in the US, these sites could freely provide online casino and poker games to anyone interested.
It wasn't until the Unlawful Internet Gambling Enforcement Act (UIGEA) was passed in 2006 that things began to chance. Many of the biggest US online casinos withdrew from the market, and the government started seizing the funds of online payment systems that were used to transfer money to online casinos.
In 2011, the infamous Black Friday occurred. This was when Full Tilt Poker, PokerStars and Ultimate Bet handed indictments and their domains were sized. Only PokerStars continues to operate, as the site purchased Full Tilt Poker – while Ultimate Bet dealt with plenty more legal troubles involving player funds.
Newly Regulated Markets in the USA
It was only two years after Black Friday occurred that lawmakers in several states started pushing for regulated online casinos in the United States. There is no one law that governs all online gambling across the country, so legislation has had to happen on a case-by-case basis. So, states are regulating their markets one by one.
Across all regulated markets in the United States, there are some common rules. Firstly, only existing land-based casinos that already have gaming licenses can operate online gambling sites. In many cases, these operators partnered up with experienced online casino brands like 888 and Microgaming to bring players a quality digital gaming experience.
Secondly, only players located within the state can play casino games at these regulated sites. Even if the player is based in the state and is travelling to a location where online gambling is not yet regulated, they are still prohibited from doing so.
Nevada
It's no wonder that Nevada was the first state to regulate its online gaming market and provide licenses to online casino sites which accept US players. Governor Brian Sandoval pushed the bill through legislation very quickly in a session that lasted just four hours on February 22, 2013.
New Jersey
In New Jersey, there was a synchronized launched with six online casinos all opening up on November 21, 2013. Six of Atlantic City's most popular casinos were able to offer gambling activities through online outlets: Borgata: Caesars, Tropicana, Trump Plaza, Harrah's and Trump Taj Mahal. Today, there are over a dozen licensed online casino sites in New Jersey.
Delaware
In October 2013, Delaware launched its first online casino sites in the USA for real money. The state started out by allowing local operators to offer free-play casino games before transitioning into real-money operations.
Interstate Gambling
All three states that have regulated their online gambling markets have joined forces to offer players interstate poker services. This allows players from New Jersey, Nevada and Delaware to play online against each other – rather than simply facing off against players in their home states.
This is been a successful venture thus far. Players are pleased to have access to a wider pool of competition, making things more exciting. It also means that prize pools for online poker tournaments are much bigger than they would be for single-state tournaments. In fact, poker revenues increased across the board after the introduction of interstate gaming.
Future Regulated Markets
Several other states are currently debating the benefits of regulating and licensing online casinos for US players. California, New York, Michigan, Illinois and West Virginia are a few of the dozen states that have expressed an interest in regulating their local online gambling markets. It's always an uphill battle, though, so it could be years before these states actually end up launching online casinos.
In the meantime, there is Pennsylvania. The state has opened up its online gaming market, with the Pennsylvania Gaming Control Board (PGCB) handing out licenses in 2018. However, online casino US sites have yet to fully launch in the state. It is expected that Pennsylvania residents will be able to play casino games online by 2019, and that the state will enter into the same interstate online poker program as Nevada, New Jersey and Delaware.
Staying Safe While Playing at Online Casinos for US Players
If you're in an unregulated market (basically any state aside from New Jersey, Nevada, Delaware, and soon Pennsylvania), it's important that you exercise caution when decided which are the best US casinos for you to play at online. There are number of considerations that you should think about when making your choice, including:
Licenses.
Always check for a license on the site. It should be located along the bottom navigation bar, and it should be from a reputable jurisdiction like the UK, Kahnawake, Gibraltar, Alderney or Curacao. The gaming commissions from these locations ensure that online casino operators adhere to a high level of customer service, confirming that strict player protection measures are in place. If you can't find a license at your chosen online casino, it's not a good idea to sign up or deposit there.
Reputation.
Player forums will always provide you with honest advice about which sites are the best online casinos in the USA. Here is where you'll actual players, voicing their opinions about all sorts of sites. Whether they're making complaints or extolling the virtues of a site, you can always rest assured that the information you'll find is unbiased.
Whenever you're thinking of signing up to a certain site, always research it on a forum. Find out what the most common complaints are, if any. A major red flag to keep an eye out for is complaining about payouts. Always avoid sites that have trouble processing withdrawals for players.
You can also take a look at professional reviews from gaming experts. The individuals who write for these sites have years of experience in playing at and reviewing US online casinos. As such, they know exactly what to look for, digging into all the nooks and crannies to give you advice on everything that you need to know. Even small details that you may have missed will be covered, so you'll get a comprehensive look at any site you're thinking of registering with.
Audits.
Fairness is a crucial consideration at online casinos. No one wants to play at a site that doesn't offer up truly randomized outcomes on its slots and table games. However, there may be some online gaming destinations that don't take part in this practice. To ensure that this is not the case at any site that you're considering, you can find out about auditing either in the bottom navigation bar or on the About Us page under Fairness.
Banking.
Never trust an online casino that deals exclusively in cash-based banking methods. If a site only asks you to use Western Union and other similar deposit options, it's a good idea to avoid that operator.
Don't Forget to Enjoy Yourself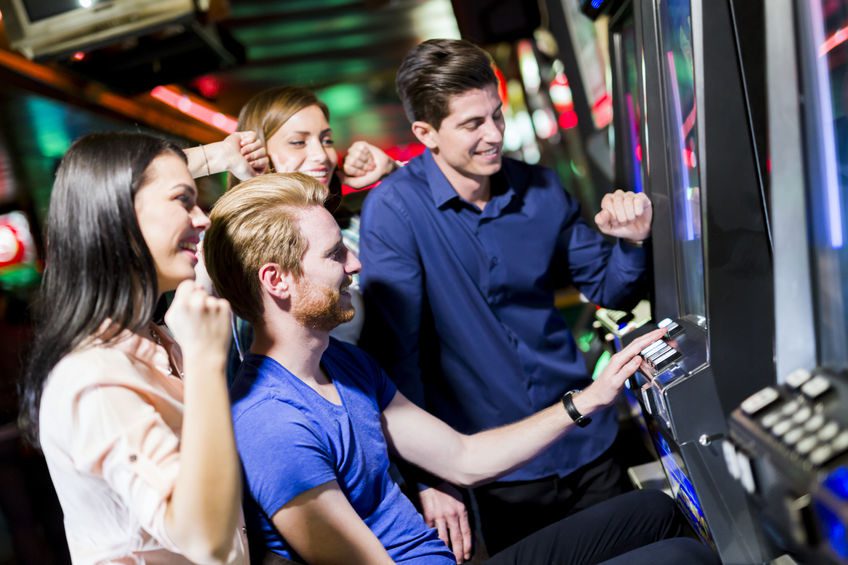 Once you've made sure that your chosen site is one of the best online casinos in the USA, then it's time to determine whether or not you'll have a good time there. Safety and fairness is important, but so is having fun – so, don't forget to consider the following aspects:
Game Selection.
Do you like to play slots? Or, are you more of a table game player? Are you partial to a live dealer? Determine what your priorities are and make sure that the site caters to your interests.
You can always take a look at the game lobby of any online casino US site without having to register. So, you can browse the selection of games to ensure that you're going to be entertained as a member.
Bonuses.
There are plenty of bonuses available at the best online casino USA sites, and it's important to ensure that you'll be able to enjoy them to the fullest extent. Take a look at the Promotions page and see if there are promotions that tickle your fancy.
If you're a slots fan, ensure that there are plenty of free spins offers up for grabs. There are also many sites that cater more towards table game players, offering up many reloads and free chips.
User Experience.
There's no point in playing at an online casino with great games and bonuses if they site is hard to navigate. This is why you should always have a thorough browse of the site to make sure that there's no lag or broken pages to interrupt your enjoyment. This should only take a few minutes, and it's important to do this before you register and deposit. Otherwise, you've made a financial commitment to a site that you don't really get along with.
Bonuses Available to the Best US Casinos Online
Whether you're playing at a licensed online casino in a regulated market or an offshore casino in an unregulated market, you'll have access to the same great bonuses. There are plenty of fantastic offers available that help you boost your bankrolls and provide you with that little extra something to help you enjoy your gaming experience all the more. These include:
Welcome Bonuses
A welcome bonus is offered to all new players at real money USA online casinos. The operator will match your first deposit by 100% (or more). Just make your deposit – and ensure that you've made the minimum eligible deposit – and the bonus is credited to your account immediately. In some cases, you'll have to enter a bonus code.
Reload Bonuses
Reload bonuses are available to existing players, and they work in a similar way to welcome bonuses. The main difference is that the match percentage is a bit smaller – usually about 25% to 50%. These are usually weekly bonuses that are offered on specific days, so make sure you mark them on your calendar.
No Deposit Bonuses
No deposit bonuses are becoming increasingly popular at online casinos for US players. These offers allow players to claim a small cash bonus without having to make a deposit. They are usually only about $5 or $10 – but, they do provide you with an extra boost that helps you enjoy your gaming experience a little bit more.
Free Spins
Many online casinos will award you with free spins along with your welcome bonus or reload. These are usually worth about 10c, and they are credited on games like Starburst and Fluffy Favorites. This type of bonus offers you the chance to try out some great new games with the chance to earn some impressive prizes.
Leaderboard Competitions
If you like a little bit of competition, then leaderboard promotions are perfect for you. Once you opt-in to the promotion, all of the money that you spend on certain games will earn you leaderboard points. By the time the promotional period is over, the players with the most points will receive cash and luxury prizes.
Prize Draws and Giveaways
Prize draws are fun way to earn extra perks and cash prizes while playing at US online casino sites. They are similar to leaderboard competitions in that you'll receive prize draw entries for playing specific games. Then, at the end of the promotion period, winners are drawn.
VIP Programs
If you're a regular player who enjoys online casino games several times a week, then it's a good idea to join a VIP program. They provide you a number of perks, such as exclusive bonuses and dedicated account managers which definitely help you have an even better time while playing casino games online.
First, find out what he criteria is for joining the VIP program. At some casinos, they're open to all players – but others require players to have deposited as certain amount of money. There are even a few that require you to maintain a certain minimum deposit level.
Wagering Requirements at Online Casinos for US Players
Whenever you claim a bonus at an online casinos (with the exception of prize draw and leaderboard giveaways), you'll be required to meet wagering requirements (also called playthrough requirements). These terms dictate how you have to spend your money before you can withdraw the original bonus amount.
Most wagering requirements are defined as a multiplier, ranging from 20x to 50x. This means that you'll have to wager your bonus amount that many times before you can withdraw it. So, for example, if you earn a $10 bonus with a 20x wagering requirement, you'll have to spend $200 before you can withdraw that original $10.
In the case of free spins, there is a maximum win applied – and, it is usually about $100. So, if you won $110 on your free spins, you'd be able to withdraw that original $100 and the rest would be credited as a bonus with wagering requirements attached.
Playing Mobile Games at Online Casino Sites That Accept US Players
Mobile gaming is becoming more and more popular. It's simply more convenient to play games on your tablet or smartphone, rather than having to sit down at your PC – and, you can take your favourite games with you on the go. All of the best US casinos offer you the chance to take part in mobile gaming – but, in unregulated markets, your options a little bit more limited.
In a regulated market like Nevada or New Jersey, you'll be able to find real-money casino apps from licensed operators in the Google Play Store and Apple App Store. The downloads are quick and easy, making it convenient for you to game on the go. The initial download is usually quite small and, once it's installed, you may have to download a larger update. Ensure that you're using Wi-Fi for this.
Then, you're all ready to go! Just log in to your account and get playing your favourite casino games. Even live dealer games are available on mobile casino apps nowadays, so there are no real limitations for mobile players in regulated casino markets.
If you're living in state with unregulated online gambling, playing on mobile-optimised casino websites is your only real option. Fortunately, the best US casinos run on HTML5, which means that they work exactly the same on mobile devices as they do on personal computers. As such, you don't have to worry about missing out on any particular games or bonuses if you're playing from a mobile browse on your tablet or smartphone.
There is also another option for Android users if they are dead-set on downloading a casino app. Some sites allow you to download their mobile apps directly from them, rather than having to use the Google Play Store. This is called an apk file, and it allows you access to apps that can't be downloaded from official outlets. You'll have to change your phone's settings to "allow app from unknown sources", and then you'll be able to install any online casino apks and enjoy mobile gaming in a traditional way.
US Online Casinos – Frequently Asked Questions
Is there anything else you'd like to know about playing games at online casino sites which accept US players? Take a look at our FAQ for some advice.
Is it legal to play at online casinos in the United States?
There are some states that have regulated online casino markets but, if you don't live in any of them, it still perfectly legal for you to play at these sites. Players don't face any legal recourse for access online casino sites from the United States.
Are my online casino winnings taxed in America?
Any winnings that you withdraw from your online casino account are untaxed. You may only have to pay a small withdrawal fee.
What are the best options for funding my casino account?
When making a deposit, ensure that you use safe and secure banking methods like credit cards, e-wallets and bitcoin.
Is it safe to play at offshore casino sites?
It is safe to play at offshore casinos in America, if you do your research. Follow the steps above to ensure that you're playing with a trustworthy gaming operator.
How old do I have to be to gamble online?
This depends on your location. Across America, the legal gambling age ranges from 18 to 21. So, be sure to double check that you can legally gamble. It is normally the same at land-based casinos as it is online.
Bethany is a graduate of York University's Professional and Creative Writing program. Having earned her degree in 2009, she quickly jumped into blogging and has worked as a writer in the casino market for 10 years. Bethany loves all things gaming and, when she's not writing, you can usually find her glued to her Xbox.