BetInReal is an augmented reality online casino that utilizes various technologies to provide a life-like virtual gambling experience.

The concept is to give customers a more realistic overall feeling and make online gambling accessible to a larger group of participants. The team behind BetInReal have a long history in both gambling and emerging technologies, putting them in an ideal position to provide a unique online casino.

Let's look at some of the technologies that BetInReal has brought together to build its platform.
BetChannels and Blockchain
To provide a secure and trustworthy backend to its system, BetInReal adopts the immutable and autonomous characteristics of blockchain technology. Since all transactions on the blockchain are both transparent and irreversible, the system is immune to attempts of fraud from either party.

Additionally, BetInReal makes use of BetChannels to ensure all online interactions between the house and customer are completed directly, via a peer-a-peer communication system. This off-chain solution makes BetInReal transactions incredibly cheap and almost instant.

Blockchain technology also offers the benefit of transparent and auditable random number generation (RNG) through the use of a secure smart contract, which can also act as an escrow holder. BetInReal utilizes its own cryptocurrency, the BIR token, to facilitate the transfer of funds between users and the platform. This makes it far easier for users to place wagers and receive payments quicker.

Augmented and Virtual Reality
In order to give its users a stunningly realistic casino experience within their own homes, BetInReal incorporates a mix of both Augmented and Virtual Reality technologies.

Using personal virtual reality equipment, users can download the BetInReal MVP app from either Google Play or the App Store and within minutes convert their living room into a virtual casino. They will be presented with a fully interactive virtual croupier with whom they can play blackjack and roulette, or simply try out the slots.

BetInReal is also currently working on a fully digitized virtual reality solution that will immerse the player in an entirely new, luxury casino environment from the comfort of their own sofa.
Read the BetInReal whitepaper here.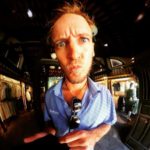 Mark is a freelance writer specializing in fintech, cryptocurrencies and gambling news. He writes for various publications on a wide range of finance and technology related topics and spends his free time traveling the world.