Bitcoin has done wonders to revolutionize the online gambling landscape, offering many players around the world opportunities that were not previously available. However, despite significant advances in security and growing awareness, many Bitcoin-related scams are still doing the rounds on the Internet.
One particular scam that keeps popping up in one form or another is Bitcoin Revolution (also known as Bitcoin Evolution, Bitcoin Secret, Bitcoin Loophole and many more). The propensity of the scam to continually reinvent itself and brazenly use celebrity images and videos without their permission is quite scary. How the perpetrators have not been caught is almost impressive – if it weren't for the thousands of innocent victims whose money they've stolen.
Despite multiple sites calling out the scam for what it is, some continue to post reviews suggesting it is a legitimate money-making scheme. One can only assume these reviews are paid for – making one question if anything else posted on these fake review sites can be trusted? Unfortunately, in the unregulated world of cryptocurrencies, you need to question everything and always do your research – or learn the hard way!
Fake celebrity endorsements
For those still uncertain, one of the most telling signs that Bitcoin Revolution is a scam is the many featured celebrities that have stepped forward to confirm that they have nothing to do with the platform. Some of the multitude of celebrities that the scammers have included in their marketing material without permission include Elon Musk, Richard Branson, Gordon Ramsay, Bill Gates, Jamie Oliver, Katy Perry, and Martin Lewis – to name just a few. Depending on which country or region that the scam is tailored to, local celebrities are often incorporated into the material too, making it seem more believable.
The scammers use ingenious methods of altering video footage and using real celebrity speech to give the impression the celebs are talking about Bitcoin Revolution, when in fact most have never heard of it. Having been around for many years now, it continues to be one of the most convincing and dangerous Bitcoin-related scams on the market. Many victims later admit that despite being warned about the scam, they couldn't resist the lure of the big payouts the scam promises.
The below image from Binary Scam Alerts shows a typical Bitcoin Revolution page using unauthorized imagery: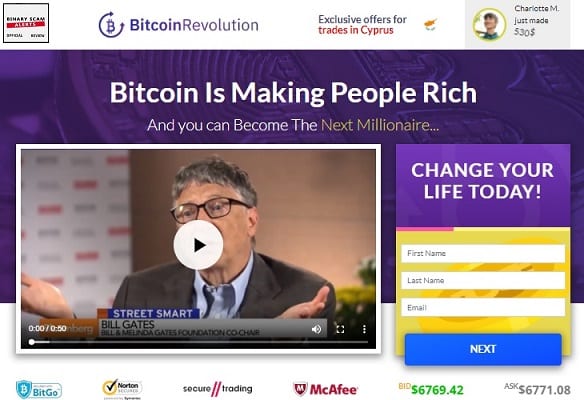 A wealth of proof
Facebook recently removed all adverts from its site pertaining to Bitcoin Revolution and its many copy-cat sites, showing a strong sign that it is not legitimate. Many well-trusted review sites like Trustpilot and news publications like Blockonomi, Forbes, and BBC have run stories on the scam, revealing it for what it is. Yet still, it persists and continues to draw in victims by constantly changing websites and paying for realistic-looking reviews on small sites that have no actual authority.
The biggest issue with these scams is that they prey on the most vulnerable of citizens – those who are either poor, desperate or tend to be less tech-savvy. Most people with a fair knowledge of the Internet or investing will quickly ignore an advert that promises results and uses terms like 'millionaire', '99 percent', or 'daily profit'. Making money through trading cryptocurrency IS possible but like any job, it takes time, dedication and lots of hard work.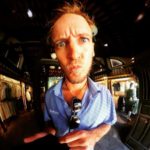 Mark is a freelance writer specializing in fintech, cryptocurrencies and gambling news. He writes for various publications on a wide range of finance and technology related topics and spends his free time traveling the world.