Ethereum has long dominated the decentralized application (dApp) space, particularly in gaming and gambling apps. In 2018, the Ethereum network processed over seven billion dollars worth of cryptocurrency, a large portion of which was related to betting activity.

Moving into 2019 though, it appears newer cryptocurrency dApp platforms are taking over from Ethereum. An investigation from financial news site DIAR indicates that the EOS and Tron blockchains have enjoyed a surge in popularity when it comes to gambling dApps. The report reveals that over 50 percent of all dApp transactions in January were conducted on the EOS network, with 38 percent on Tron and only a mere 6 percent on Ethereum.

EOS and Tron Gambling dApps

The Tron network in particular has become hugely appealing to gaming and gambling developers, with over 95 percent of its dApps dedicated to the betting industry. Online gambling platforms like TronDice have attracted the interest of punters the world over and have been incredibly profitable for the creators.

While admittedly less so than Tron, EOS is also widely used by developers in the gaming industry, with 66 percent of all dApps built on its network gambling or gaming related. The recent surge in popularity of cryptocurrency and blockchain-based gambling is clearly the driving factor that has helped to boost the profile of both EOS and Tron.
Could a New Department of Justice Decision Prohibit Crypto Gambling?
In January this year, the Department of Justice (DoJ) reconsidered a decision regarding the Federal Wire Act of 1961, which prohibits online sports betting in the U.S but not other forms of gambling. Following a recommendation from its legal team, the DoJ has now extended the law to apply to all forms of online gambling – a move which could effectively kill the crypto gaming industry in the country.

However, with the majority of cryptocurrency companies operating from offshore locations, in practice it would be very difficult for the department to enforce the new law.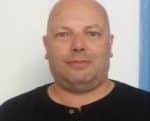 Steve is a self-employed writer and writes on a wide range of subjects. He's written about everything from football previews to politics and even had a spell editing a magazine about women's wrestling!