Blockchain-based gambling is traditionally considered to be solely restricted to online and mobile platforms but now the crypto firm BitBoss is introducing blockchain casino hardware.
BitBoss has developed a hardware product designed for use in traditional brick-and-mortar casinos that uses what they call their 'Bridge' technology. Essentially, the hardware is a slots machine built on blockchain technology that supports the use of cryptocurrencies. It has a built-in virtual currency wallet and technology that connects it with a blockchain system within the casino. The best part is, the hardware only costs around $100 currently – an incredibly low price for new tech like that!
Bitbox CEO Matt Dickson introduced the new tech at the CoinGeek conference in Seoul, Korea, recently.
"Bridge is a new hardware product we designed. It's roughly one hundred US dollars right now, so it's very inexpensive. It runs Linux, we insert it into a slot machine, and it intercepts the communications going back and forth between the slot machine and the backend server that runs a casino," he said. "We can then route cryptocurrency, whether it's a token or actual cryptocurrency, whatever the casino would choose, on and off the slot machine. And it replaces the traditional tickets that you print out when you want to cash out of a slot machine."
The fully incorporated piece of hardware includes a whole blockchain ecosystem with a vault, network link, wallet software, and gaming interface. Everything connects via the bridge to the casino servers and manages transactions in real-time, making the entire process far more efficient and cost-effective for the casino. This kind of technology also opens up the possibility to merge the entire physical casino experience with an online mobile app, thereby giving the user the traditional feeling and the convenience of mobile technology.
"I think the main idea we like to relay to people though, is that by moving those credits off of a piece of paper and onto the clients, or the customer's cellphone, you now have a much better opportunity to market to your customer because they always have their cellphones," Dickson explains.
BitBoss has released and is planning to release several games through its platform, including Baccarat, Roulette, Lottery and Sicbo. They further intend to expand upon their current system and make a platform on which third-party developers can build their own games. Dickson went on to discuss how blockchain can be used in casinos to improve fairness and security, specifically using BitBoss's Secure Split Key technology which enables direct communication with the blockchain by all parties involved.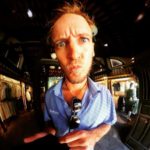 Mark is a freelance writer specializing in fintech, cryptocurrencies and gambling news. He writes for various publications on a wide range of finance and technology related topics and spends his free time traveling the world.