Uniquely designed online slot machines are always going to catch players attention, and when it comes to the Gates of Olympus designed by Pragmatic Play, there are many additional built in features that will ensure anyone who spins its reels is in for an exciting and entertaining slot playing session.
Admittedly it is going to take some getting used to if you do decide to give that slot a whirl, for to begin with the 6 x 5 grid formation you will be playing it on offers plenty of ways to win, in fact winning combinations are formed by clusters.
What that means is that you will need to spin in cluster of at least 8 matching symbols to start achieving winning payouts, and the games comes with its own tumbling reels format. So winning clusters are paid out then the symbols forming them explode to be replaced by additional symbols, which in turn could form even more winning combinations.
If you have played that slot before and fancy trying out some other slots like Gates of Olympus, I will give you an insight and overview of just which slots are worth tacking down and playing below.
The five slots that are similar to Gates of Olympus are:
Sweet Bonanza
Starlight Princess
Wild Beach Party
Fruit Party 2
Santa's Wonderland
There is also a free spins bonus game that can be triggered on the Gates of Olympus slot game, and to ensure plenty of winning opportunities it is a slot that boasts an RTP of some 96.50% too.
Sweet Bonanza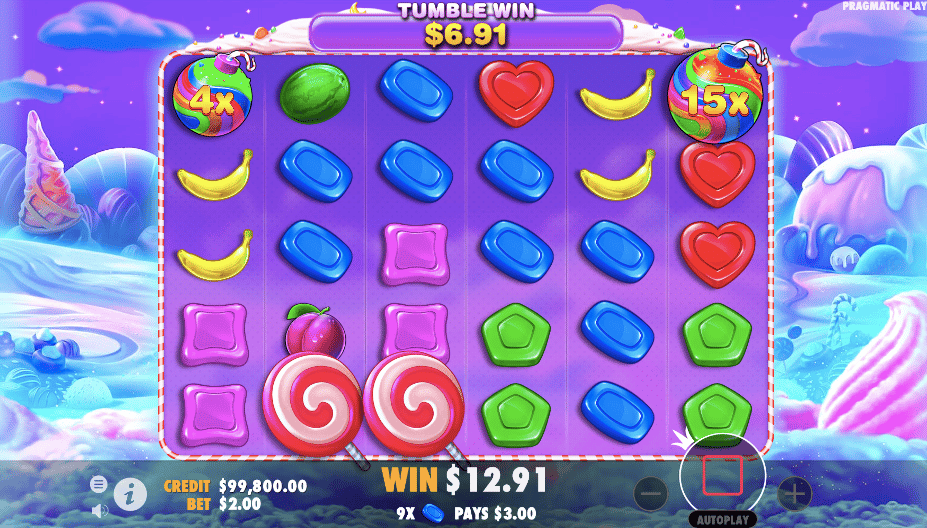 As long as you stick to playing online or mobile slots that have higher than average RTP's you will not go far wrong, however for those of you that are looking for slots like Gates of Olympus that offer huge winning potential then do consider giving the Pragmatic Play designed Sweet Bonanza slot some attention.
There is always the chance of a huge winning payout coming your way when you play that slot thanks to its set of multipliers that can massively increase the value of winning payouts, and it does come with a highly respectable RTP of some 96.49%.
Available at instant play online casinos and mobile casino sites too you will not have any difficulty tracking that slot game down, just be aware though that it is a high variance slot, so make sure that you set that stake levels to ones that your bankroll can sustain or you may soon bust out your bankroll if the reels do not spin your way.
Starlight Princess

This is a slot which pretty much mirrors Sweet Bonanza, except for one difference it the way it plays – the multiplier during the free spins does not reset, amplifying the feeling of a big win being just around the corner and adding to the excitement. This is the same as Gates of Olympus.The skin of the game is different to Sweet Bonanza, being that it is Japanese style animations, but this doesn't in any way detract from the fun. If you love Sweet Bonanza then it's pretty much guaranteed that you'll love this similar slot too.
Wild Beach Party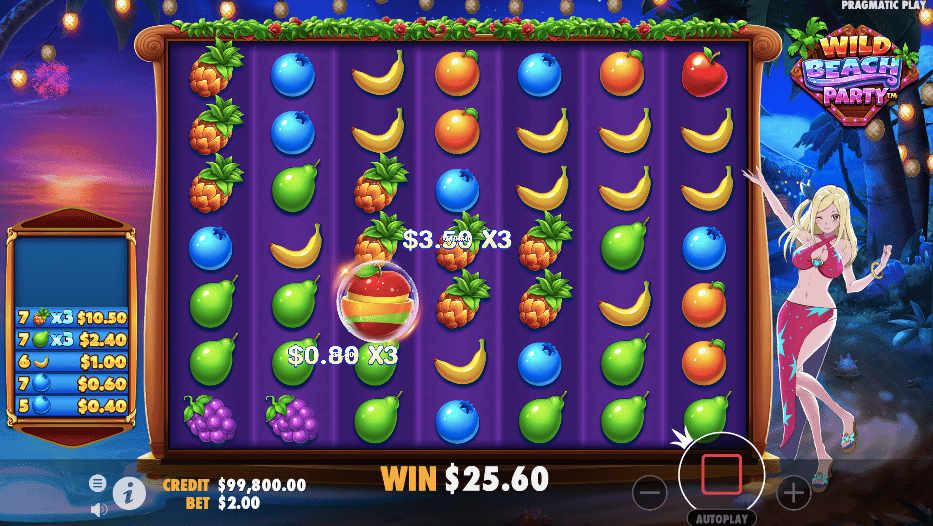 Yet another offering from Pragmatic Play which replicates the features of Gates of Olympus but in a different skin. This time we have a "Wild Beach Party" theme going on, and you'll certainly be hoping the multipliers go wild when they drop in on the 7×7 grid. Although the game isn't actually too "wild" with its graphics, it's somewhat more tame with fruit symbols including oranges, bananas, apples, pears, grapes and pineapples. The max win possible is 5000x and the RTP is 96.53% which is pretty decent. 
Fruit Party 2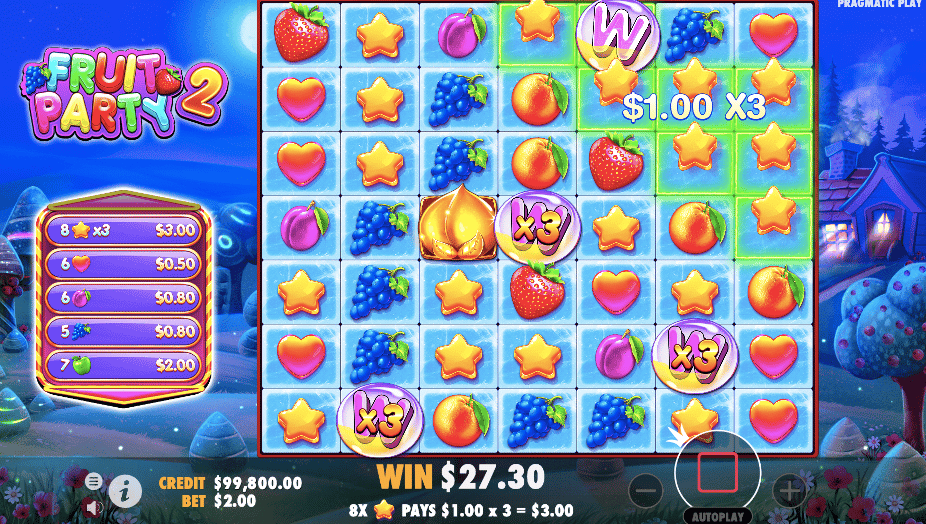 Fruit Party 2 builds upon their previous release of Fruit Party, with it's 7×7 grid and cascading wins. Any 5 or more matching symbols landing in a cluster will trigger a win, the bigger the cluster the higher it pays. To get to the free spins bonus you'll need to see a minimum of 3 Golden Fruits which will give you 10 free spins. You can however land up to 7 Golden Fruits which will give you 25 free spins, though the maximum I've ever personally seen drop in is 6 which resulted in 20 free spins. The multiplier bonus also comes into effect just as it does in all slots like Gates of Olympus. The RTP comes in at 96.53% and the max win is a typical 5000x.
Santa's Wonderland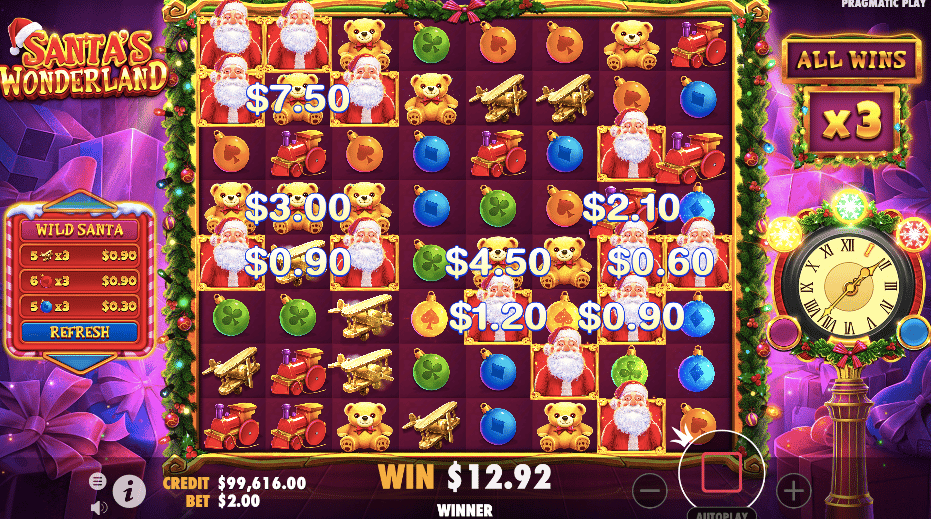 You should have enough slots like Gates of Olympus to try out and keep you busy, however there is one additional game that I urge you to track down and give a little bit of play time to when you can and that is the Santa's Wonderland. This time we see a Xmas themed 8×8 slot grid with cascading wins and a whole host of features which comes into play during the free spins, helping to make this a highly exciting game and one we 100% recommend trying out for yourself.
It is another high variance slot from Pragmatic Play and for those of you interested in its RTP, well that has been set high at some 96.23% which is ever so slightly lower than we would have liked to have seen.
Keep in mind too that much like all of the other slots listed up above, you can always try it out via the demo mode version of the slot which does play and pay just like the real money version, but you will be using demo mode credits and not real money credits when testing it out of course.
David is a keen slots player and has spent countless hours playing both online and in land based casinos. He enjoys sharing his knowledge of the gambling industry and keeps a keen eye out for the latest online slot games. Contact him by sending an email to david@casinochronicle.net.