Three of the best slots like Hop n Pop are Tasty Treats, Warrior Ways, and the all-action Double Rainbow slot. Boasting all manner of unique features you really will enjoy playing any of them online.
Hop n Pop offers Hopping multipliers valued at up to 64x, a free spins feature game comes with progressive multipliers and one of the largest non-progressive jackpots found on Hacksaw Gaming designed slots that being one worth 12,500x your stake.
Slot Games that are similar to Hop n Pop:
Tasty Treats
Warrior Ways
Double Rainbow
The Bowery Boys
King Carrot
Tasty Treats
As you are about to discover, there are loads of slots like Hop n Pop and one that I do enjoy playing time and time again, and one that I know plenty of you out there will also love playing is the fun looking Tasty Treats which is a multi-stake slot offering a rather tasty jackpot too.
The main attraction of this slot is that you could end up triggering, on any number of base game spins its free spin bonus game, and when you do one thing you will certainly discover and see is that bonus game is played off with more Bubbles which in turns means more winning possibilities of course.
You will also be hoping to see the Bubble Boosters for those come with plenty of additional wild symbols and also loads of multipliers, the jackpot that is on offer on this fun to play and it does have to be said exciting and good looking slot is worth 10,000x your stake.
Warrior Ways
Warrior Ways is another slot like Hop n Pop and one which does boast all manner of unique feature and its own unique set of bonus games too, so read on for there is a lot more to that slot than you may first imagine and it is a slot which can both be played online or on any type of touchscreen mobile device too.
One any spin you may just see playing out on the screen what are known as Clan Warrior fights and dependent on which Clan wins that battle then replacement symbols with big multipliers could become live on the screen.
It is via a set of what are known as Clan Multipliers during the Clash feature that some of the highest valued winning payouts can be achieved as you play this slot so that is a feature you will be very eager to see triggering as often as possible when you play it, and as such you will see symbols being replaced by higher paying ones which is how you really could be lucky enough to win big.
Double Rainbow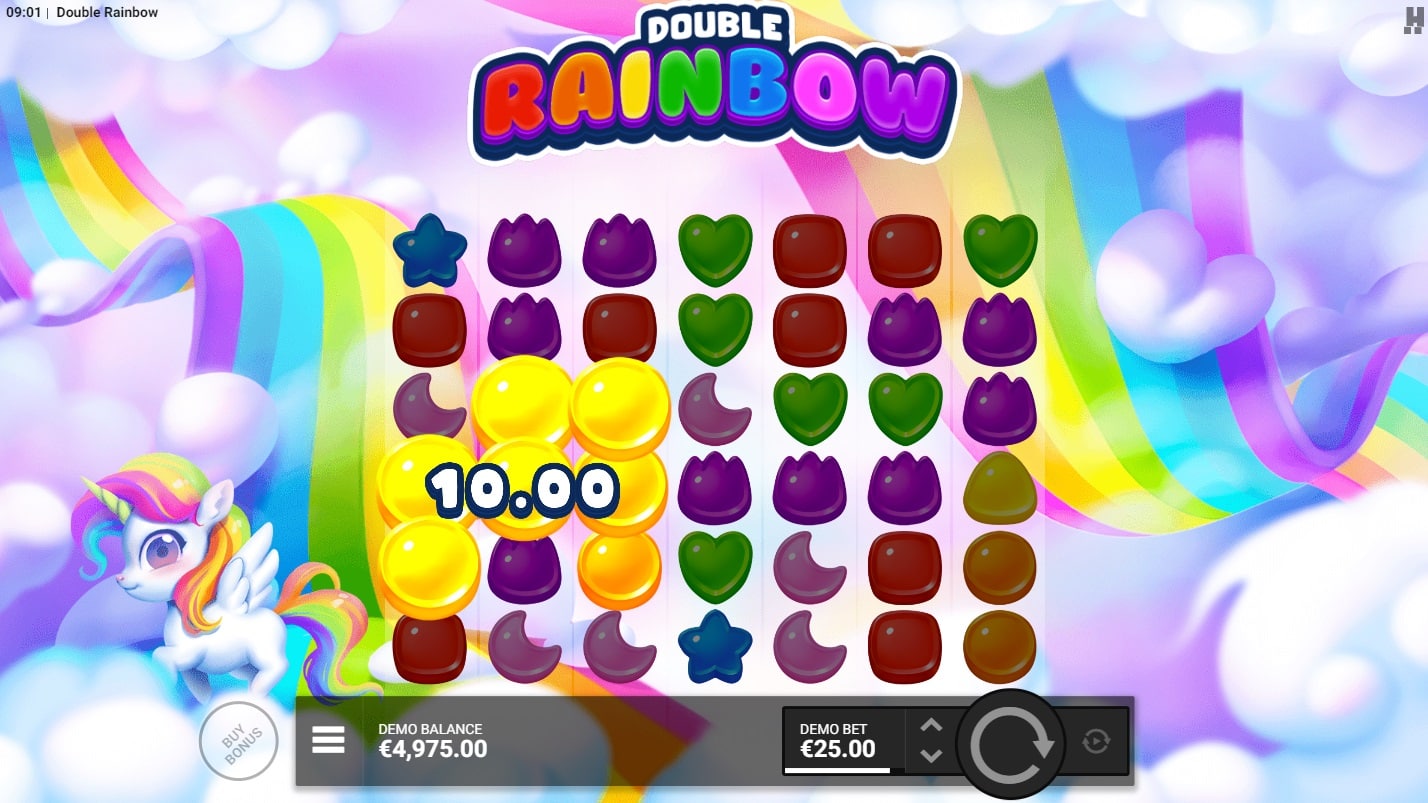 It will often be slots like Hop n Pop that players will want to play when they are eager to have a roller coaster type of slot playing experience, and if that is something that you personally are looking to do any time soon, then another one to add to your growing list of slots to play is the Hacksaw Gaming designed Double Rainbow slot.
This slot is not as high variance as some of the other one listed throughout this guide but it is one that could still bang out to you a jackpot valued at an impressive 5,000x your stake jackpot.
Keep your eyes for the Cloud symbols for as soon as they start to spin in and appear they can increase the colour multipliers and when they do you could bag a fortune, but if you have all of the colour symbols making an appearance and spinning in then you will see some much larger multipliers coming into play.
The Bowery Boys
You may be struggling to work out just which of the slot like Hop n Pop to get stuck into playing first, and if so let me suggest The Bowery Boys slot, for it comes with so many built in features and bonus games that you could end up playing it for quite some time and have a rather entertaining and possibly very profitable gaming session as well.
Get 5 Strongboxes and what happens is when the key symbol spins in those boxes will then open up to reveal your winning payout, plus thanks to the Dynamite Multipliers you could also massively increase the value of winning payouts, there is also a Bust the Bank feature which can award repeated wins too.
King Carrot
As you have now discovered, there certainly is not a shortage of slots that are like Hop n Pop, but one more for you to check out and one that does come with plenty of additional bonus games and bonus features that you may enjoy playing and could win big when playing too is the King Carrot slot, which just in case you are wondering, is another Hacksaw Gaming designed slot machine.
The King Carrot symbols whenever they have appeared have a special random task and that is to replace other symbols with Carrot symbols which if everything does fall into place could see you winning a substantial amount of cash dependent on just which symbols ate replaced of course.
Most players these days do look out for and enjoy playing slot machines online or even on their mobile devices that offer them the chance of triggering a set of free spins, and this is a slot that certainly offers that type of a bonus game but as it is playing off what you may just be lucky to see happening is that replacement symbols can be awarded to you, which could help you win big via that bonus game.
Another thing that all savvy slot players are going to want to have the chance of doing is winning big when playing the slots they have chosen to play, and if you do decide to give the King Carrot slot any amount of play time, no matter at which stake level that you have chosen to play it for you do have the chance of winning a jackpot that is going to be valued at a huge 10,000x your stake amount, which is a jackpot well worth winning.
David is a keen slots player and has spent countless hours playing both online and in land based casinos. He enjoys sharing his knowledge of the gambling industry and keeps a keen eye out for the latest online slot games. Contact him by sending an email to david@casinochronicle.net.