The slots that are like Sugar Rush are Fruit Party and Fruit Party 2, as both of them offer increasing multipliers via their free spins bonus game that stay in place for the duration of that feature round.
If however, you have not yet given the Sugar Rush slot game a try, then you will not be aware of the many unique aspects of that game that have made it one of the most popular Pragmatic Play designed slots.
So let me run through what makes it both a must play slot and a unique one too. The first thing to be aware of is that there are no pay lines attached to the slot, instead players simply need to see spinning in clusters of matching reel symbols to form winning combinations.
It is however a highly volatile slot, so my advice is to play it for a low stake level, to ensure if nothing else, that you get plenty of play time out of your bankroll and allow you to play off enough base game spins to give you a fair and reasonable chance of triggering its bonus game.
Just so you know, even if you are playing for some very low stake amounts, you can still win big and the jackpot on offer is a decent 5,000x your bet.
When you launch the slot you will see there are no reels, instead the symbols drops into position on a 7×7 grid like formation, and as long as you do get enough matching reel symbols forming in a cluster then you will earn a winning payout, the bigger the cluster though, the higher in value the winning payout will be.
All possible clusters that you can form are listed on the Sugar Rush slots pay table along with the respective winning payouts.
The minimum stake required to send the game into live play is just 0.20, however you can of course increase those stakes to much higher ones, all dependent on the level of risk you want to have in place and the value of your bankroll too.
Be aware a Tumble Feature is automatically triggered once you do form one or more winning clusters, the symbols that form the clusters are removed from the screen, once your winnings are credited to you and those symbols above the missing ones then drop down to fill in the gaps.
Therefore it is possible to form additional clusters once the Tumble Feature has played off, and if you do then that feature will continue until such a time that no new additional winning clusters appear.
Multipliers can also come into play to help boost the value of any winning clusters and there is even a free games bonus feature round that can be triggered too.
One final piece if information about the Sugar Rush slot machine, is that its long term expected payout percentage is high, working out at some 96.50%.
Slot Games that are similar to Sugar Rush:
Fruit Party
Fruit Party 2
Fruit Party Slot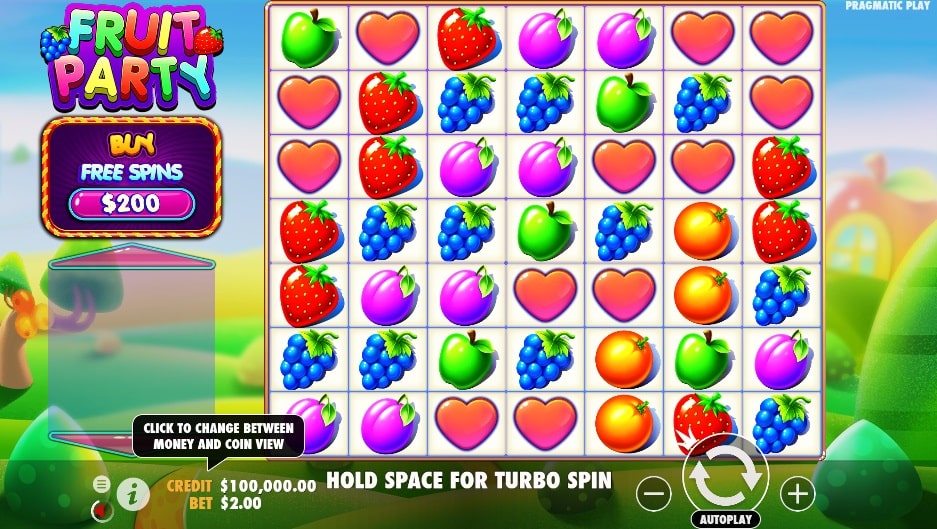 The first slot that is like Sugar Rush is the Fruit Party slot, which is also designed and supplied by the industry leading game studio, that being Pragmatic Play, and as such you are always going to find both of those slots in the game menus at any online or mobile casinos that have that company's range of games on offer.
Once again, you will be playing a slot on which you are tasked with trying to form clusters on each game you play off, and the bigger in size they are the more you then stand to receive as your winning payout.
Now, what does make it a slot worth playing, is that when the free spins bonus game has been awarded to you, the multiplier values can drop randomly into position, and as such that feature does add another level of excitement to that bonus game, and you will be sat there watching it play off when triggered, hoping the multiplier lands in just the right location to enable you to bag a much higher payout.
This is however another highly volatile slot, so just be aware you can play off a high number of spins and not see any clusters forming, but quite out of the blue some mega sized winning payouts could suddenly come your way. It's RTP for those of you out there that are interested is 96.47%.
Fruit Party 2 Slot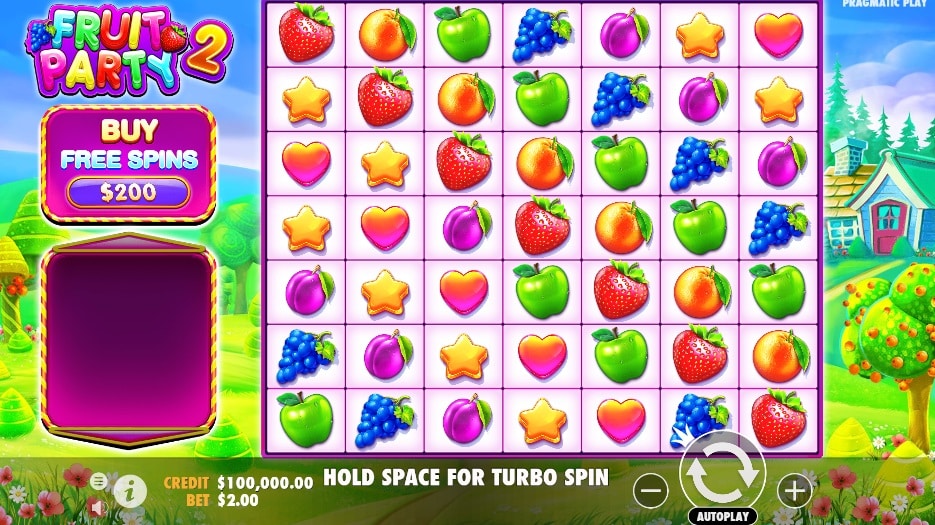 I would also suggest that you give the Fruit Party 2 slot some play time if you are looking for slots like Sugar Rush, for that slot comes with the same type of clusters pays structure, but thanks to a special wild symbol some huge amounts of cash can be won, let me explain.
If you form a winning cluster when playing Fruit Party 2 with the help of the wild symbol, if after the Tumble another winning cluster is formed then that symbol could re-appear and if it does it will them reveal a multiplier value.
Which could be as high as a whopping 256x, however when the free spins bonus game has been triggered the wild symbols, if more than one of them help to form winning clusters, will be added together and as such they can reach values of a mind blowing 729x.
You can therefore see for yourself the pay-out potential of that slot, much more so during the bonus free spins round, and low stake players can therefore bag some mega amounts of cash if everything does fall into place when they play it.
Being another highly volatile slot through, it isn't a slot that everybody will enjoy playing due to its level of risk, however if you are prepared to play it you will certainly find it an extremely exciting slot to play at times, and one that sure can bang out the winning payouts that are huge in value.
The long term expected RTP of the Fruit Party 2 slot is 96.53% which drops down to 96.45% if you make use of the buy a bonus option.
David is a keen slots player and has spent countless hours playing both online and in land based casinos. He enjoys sharing his knowledge of the gambling industry and keeps a keen eye out for the latest online slot games. Contact him by sending an email to david@casinochronicle.net.